Dar es Salaam Airport: Tanzania major air gateway, Julius Nyerere International Airport (JNIA) in Dar es Salaam, is set for major infrastructural works that will include the construction of several shopping malls, hotels, banks, casinos and ultra-modern conference facilities at the nearby Banana vicinity and outside Terminal 3 among others, as it embarks on exploiting the potential linked to expanding airport.
The infrastructure components have already been opened to private financiers on Build, Operate and Transfer (BOT) models, putting Dar es Salaam and Tanzania, on the right flight mode to join the exclusive club of high-tech, multi-purpose international airports elsewhere in the world.
In fact, it is already happening. The Tanzania Airport Authority (TAA) has invited bids from reputable and competent companies to develop a new 200 room four-star hotel, complete with conference facilities, restaurant and bar, swimming pool, gymnasium, car parking, casino and all other necessary facilities befitting an ultra-modern and high-tech 20 Century international airport.
The authority has also invited developers to plan, develop and build a commercial complex/business center at Banana area. These include five (5) bank facilities, various ATM machines, 5 bureaus de change, shopping malls, restaurants, bars and coffee shops, office space, cinema hall, swimming pool, car parking, other rental shops, gymnasium, a kids zone, and modern rest houses.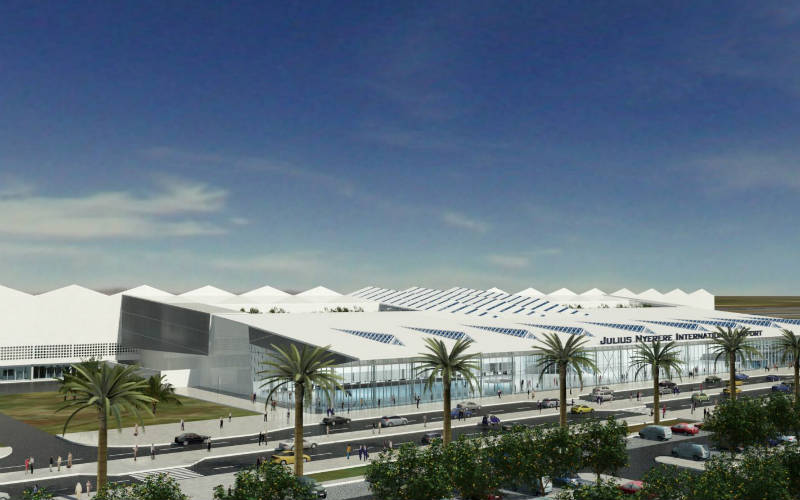 It will be located at Banana, which is within short walking distance of both passengers terminals.
The successful bidder will construct the hotel and operate it for a specified period of time, before eventually transferring it back to the control of the TAA.
Tanzania Airport Authority (TAA), Director General Richard Mayongera called the four-star hotel deal a double bonus, returning a major passenger amenity to airport grounds and providing the much-needed income boost.
"These developments, coupled with service improvements will go along way in positioning JNIA as the premier aviation and commercial hub in the region," he acknowledged.
"This move will give our customers and passengers a wider choice and better service range while on the other hand it would assist TAA to generate more revenue with which to improve airport services."
The development and operation of the new facilities at JNIA will be established along Build, Operate and Transfer (BOT) models.
Mayongera said that investors will be also required to develop diverse rental shops and other facilities outside Passenger Terminal III Complex (TBIII). These would include 5 bank facilities, shopping malls, restaurants and coffee shops.
According to Mayongera, "it would definitely be of nicer convenience to our passengers. We look as it as a super customer service. And secondly, it would generate additional revenue to operate the airport system more efficiently."
He explained that these projects will create jobs during and after construction.
The pre-qualified will be conducted through National Competitive Bidding (NBC) under the procedures specified in Public Partnership Act, Regulations, 2015, and is open to all applicants.
"There is significant demand for new terminal-linked hotel at JNIA (TBIII) and this development will benefit not just the airport but the city and region as a whole as Dar es Salaam needs more hotels," said TAA boss.
"If this hotel would be trading today, it would be one of the strongest performing hotels in Tanzania," he added.
"Given the unique high profile location and the quality of the offers, we anticipate strong interest from developers, investors, hoteliers and brands."
The amenities are meant to serve the growing traffic of business travelers, transiting passengers, airline crews and neighboring countries az JNIA races to boost the capacity of the airport.
The new focus come at a time when the authority plans to diversify its revenue sources which have often been dependent on passenger service charges.
There would appear to be demand for such facilities with JNIA setting a new record for passengers number last year. Traffic fell to 2,469,356 people in 2016 from 2,496,394 passengers recorded in 2015.
On the development, Dar es Salaam is anticipated to cut reliance on Nairobi for transit flights by some airlines after the installation of four radar systems worth $29.6 million (Tshs 67.1 billion)
French contractor Thales Group is expected to install the system at JNIA, KIA, Mwanza and Mbeya airports by May 2019.
Commissioning the construction of four radar systems in the country's four airports, President Magufuli said the move would save the government more than $528,000 (Tsh 1.2 billion) in fees it pays Kenya for the service.
"We have been paying surveillance fees annually because large parts of our airspace were monitored by Kenya, because we have only one old radar station installed in 2012," he said.
Prof Mbarawa had reported that a contract for the project was signed in August last year with Thales and that it will be wholly funded by the government.
"So far, we have paid the contractor $5 million as advance payment," he maintained.
Tanzania Civil Aviation Authority (TCAA) Director General Hamza Johari said they will now be able to facilitate search and rescue operations in case of emergency or air accidents.
According to him, it will also meet the ICAO standards and guidelines. Johari pointed out that TCAA will now have a network of airports, with the capacity to handle modern aircraft as well as to provide 24-hour service.
Last year, a frequency radio monitoring sites were installed in Tanga to boost its capability to monitor Tanzanian airspace.
Its current radar, bought from United Kingdom-based firm, British Aerospace Engineering, was emerged that its cost of $40 million (Tsh 91 billion) was 45 percent higher than similar radar systems that the firm sold to Indonesia, Saudi Arabia, and Turkey at a cost of nearly $22 million (Tsh 50 billion).
Tanzania has also said that June next year will be finally delivery timeline of the JNIA passenger terminal, a project that has been dogged by delays due to corruption and unavailability of funds.
The $300 million project had been delayed over a funding stand-off after the president questioned its cost and execution timeframes in February last year.